AAPG GEO 2010 Middle East
Geoscience Conference & Exhibition
Innovative Geoscience Solutions – Meeting Hydrocarbon Demand in Changing Times
March 7-10, 2010 – Manama, Bahrain
Unraveling Complex Velocity Anomalies -A Case Study in Bahrah Area, Kuwait
(1) Exploration Prospect evaluation, Kuwait Oil Company, Kuwait, Kuwait.
ABSTRACT
The role of velocities in understanding seismic data is very significant. Layers or features with a high seismic velocity surrounded by rocks with a lower seismic velocity causes in the time domain what appears to be a structural high beneath it. After such features are correctly converted from time to depth, the apparent structural high is generally reduced in magnitude or sometimes turned out to be flat. Understanding of depositional environment, tectonic movements and lithology is very important in converting the seismic section from time to depth domain. One such example is the Bahrah area which situated on the Kuwait onshore and lies on the Northern plunging anticline of Kuwait arch (fig.1). Very sharp lateral velocity variations coupled with strong vertical velocity variations extending over very short intervals caused depth conversion that much more difficult in this area.
In Bahrah area, the dominant NNW-SSE fault system is intersected by another group of East-West fault system which is formed as a result of lateral transpressional system. These transpressional features are overlain by well defined grabens formed as result of collapse of these features (fig.2). As a result of this complex tectonic activity and the subsequent diagenetic transformation that took place resulted in the forming of dolomitasation/cementation in the carbonates which in turn produced very high velocity zones within localized areas of limited areal extent both laterally and vertically.
In the seismic section these areas are come up as very distinctive and pronounced structural highs, evident in the otherwise horizontal and uniform sedimentary reflection sequence, and are leading the interpreter to map them as structural highs/4way closures (fig.4). The depth maps prepared using the available velocities turned out to differ by around 300 feet to the actual well data. To overcome the problem, an initial velocity model was built using all the hard data. Later, zones of anomalous velocity in the area are identified(fig.3). To restrict and effectively isolate the influence of zones of sharp velocity variations, suitable velocity functions are introduced in and around the anomalous zones by giving due weight to the drilled well data and depositional environment surrounding these zones. Once the seismic volume is converted into depth domain using the corrected final velocity model, structural highs in time turns out to be reduced in magnitudes in depth (fig.5).
Clear understanding of depositional environment, tectonic movements and paleo structural reconstruction may give insight into the sharp velocity variations and will add confidence to the subsequent time to depth conversions. Proper understanding of velocity anomalies may help in reducing the surprises in exploration.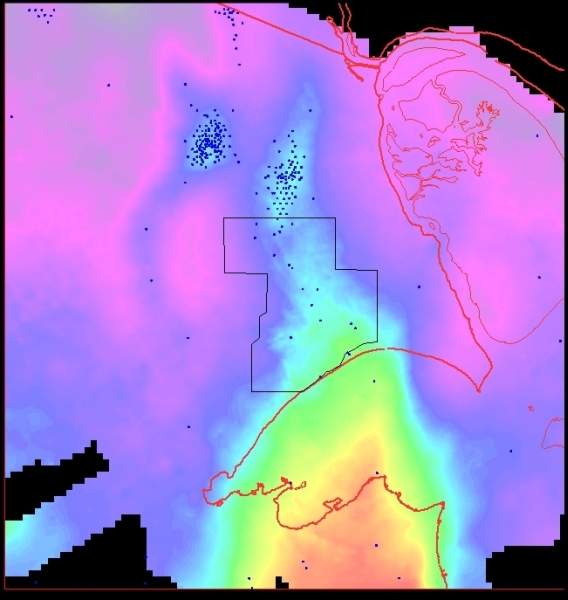 Fig 1 : Map showing the Bahra area in the regional map of Kuwait Arch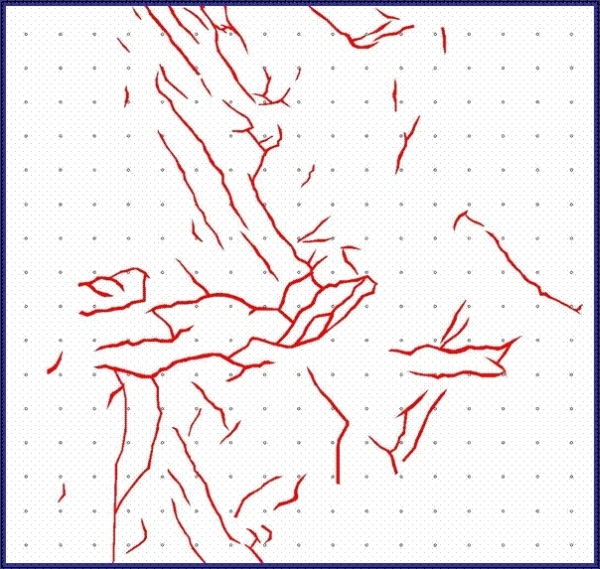 Fig 2 : Map showing the Fault polygons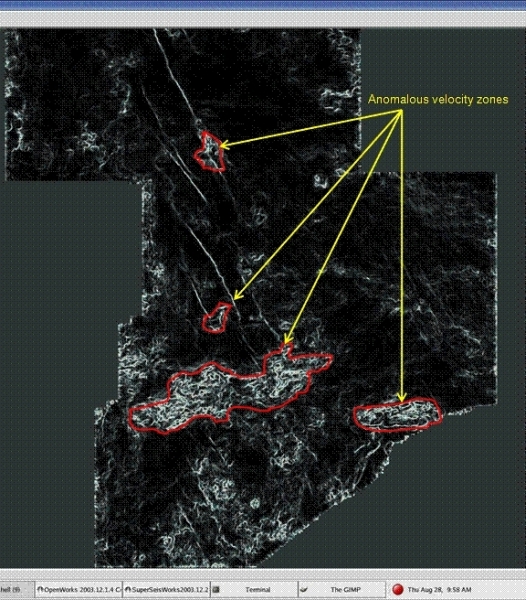 Fig 3 : Map showing Anomalous velocity zones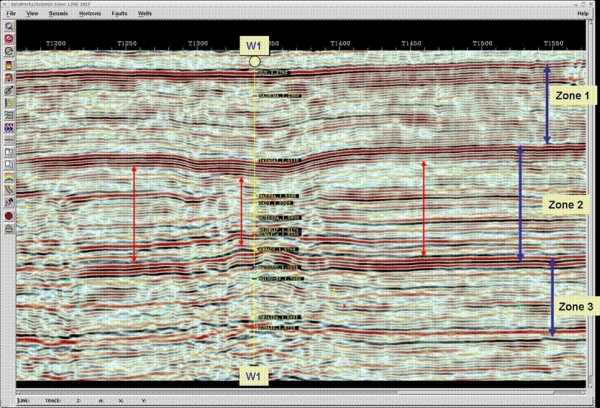 Fig 4 : Seismic section in Time
Fig 5 : Seismic section in Depth