AAPG/GSTT HEDBERG CONFERENCE
"Mobile Shale Basins: Genesis, Evolution and Hydrocarbon Systems"
June 5-7th -- Port-of-Spain, Trinidad and Tobago
Structural domains in mud volcano systems
Simon A. Stewart*1, Richard Davies2, Robert Evans3
(1) BP Azerbaijan, Chertsey Road, Sunbury on Thames, Middlesex, TW16 7LN, UK
* Presenting Authors email: [email protected]
(2) CeREES, (Centre for Research into Earth Energy Systems) Department of Earth Sciences,
University of Durham, Science Labs, Durham DH1 3LE
(3) 3D Lab, School of Earth, Ocean and Planetary Sciences
Cardiff University, Main Building, Park Place, Cardiff, CF10 3YE, UK
Introduction
A structural domain framework for mud volcano systems is described with the intent of providing a model that encompasses structural and stratigraphic relationships for domain interpretation on seismic reflection data.  Figure 1 shows a basic structural model of a kilometer-scale mud volcano system based on 3D seismic mapping in the South Caspian Basin.  In this simplest case where there has been a single, protracted episode of mud volcanism, two clear domains are generated.  An intrusive domain connects the source layer to the depositional surface and an extrusive domain contains the mud volcano and lateral stratigraphic equivalents.  In a subsiding basin, a third, roof domain of later sediments may develop.  Each domain has distinctive internal architecture.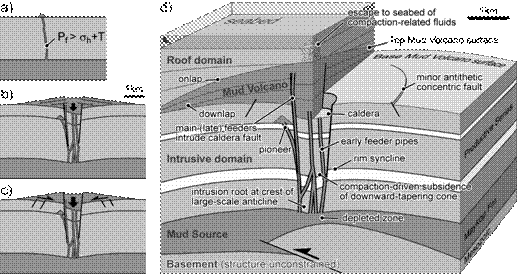 Figure 1: Evolution and 3D sketch of mud volcano system based on 3D seismic reflection data from South Caspian Basin.
Intrusive Domain
Mud volcano systems commonly occur where a buried source layer is sufficiently overpressured to hydrofracture overlying sediments, and mobile enough to flow up through these fractures.  A fracture system that connects to a depositional surface can become the conduit for large volumes of fluidized mud and gas (a diatreme).  Episodic pressure buildup and renewed diatreme emplacement or reactivation leads to a zone of steep intrusions that may fail and collapse, creating a caldera.  The intrusive domain is kilometer-scale and has steep, faulted relationships between mud and adjacent strata.  There is much in common with igneous volcanic systems, which are comprised of diatremes, subvolcanic ring complexes and calderas.  Structural geology knowledge could be shared between disciplines in this area.  If an intrusive domain were exhumed and exposed in the field, we would expect to see a caldera, fault zones and numerous pipes and sheets of intrusive material.  Figure 2 shows what the outcrop pattern could look like, based on horizontal slices of seismic data that show structure underneath Caspian mud volcanoes.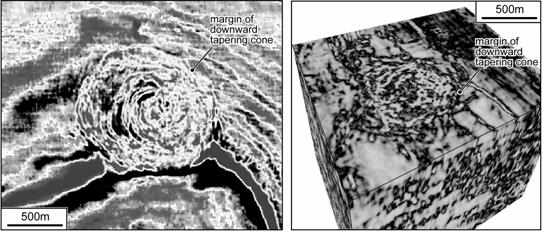 Figure 2: Horizontal timeslice (seismic reflection data) and cube (seismic coherence data) showing structure in the intrusive domain, underneath mapped mud volcanoes.  Fault compartments, steep dips and numerous intrusions characterize this zone.
Extrusive Domain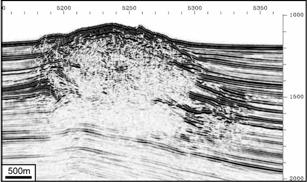 The extrusive domain has some processes and geometries in common with salt extrusions.  Subareal extrusions get heavily eroded, but submarine extrusions build aggradational structures whose overall shape and lateral margins reflect relative rates of extrusion and background sedimentation (Figure 3).
Figure 3: Extrusive domain.  Mud volcano has built by numerous episodes of intrusion giving "Christmas Tree" lateral margin of mud interdigitating with adjacent strata.  Volcano now nearly buried and could be misinterpreted as intrusive "chamber".
In due course these get buried and can alias as intrusive chambers.  The bounding surfaces and lateral margins in particular are characterized by stratigraphic rather than structural relationships with surrounding strata. Unlike salt the mobility of mud decreases with time via fluid loss so extrusive edifices (mud volcanoes) generally become integrated into basin tectonostratigraphy as mechanically stable units.
Roof Domain
A roof domain is defined upwards from the upper bounding surface of a mud volcano.  This surface may be onlapped.  The roof domain includes a variety of differential compaction structures.  A zone of fluid escape structures occurs above the apex of buried, compacting mud volcanoes.  On shore these occur as swarms of metre-scale gryphons (Figure 4), offshore large mud pools occur on the sea bed (Figure 5).  Mud volcanism can be cyclic, giving stacked intrusive and extrusive domains.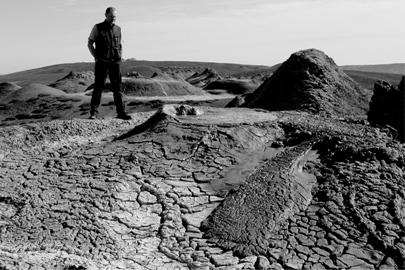 Figure 4: Metre-scale mud extrusions (gryphons) at top of kilometer-scale mud volcano, on extrusive – roof domain boundary.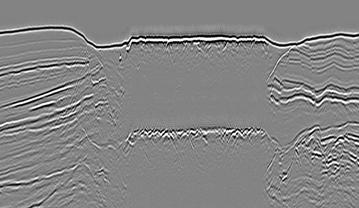 Figure 5: Submarine mud pool (salse) in roof domain above a kilometer-scale mud volcano.
AAPG Search and Discovery Article #90057©2006 AAPG/GSTT Hedberg Conference, Port of Spain, Trinidad & Tobago