AAPG HEDBERG CONFERENCE
"Mobile Shale Basins - Genesis, Evolution and Hydrocarbon Systems"
June 5-7, 2006 -- Port-of-Spain, Trinidad and Tobago
Shallow sediment mobilization in the northern North Sea
LØSETH, H., WENSAAS, L., SAWYER, D. E., ØKLAND, D. and JOHANNESEN, J.
Statoil R&D Centre, Trondheim Norway
Mounds and zones with a highly chaotic seismic reflection pattern have repeatedly been observed in the Tertiary Hordaland Group, northern North Sea. The chaotic seismic reflection pattern (Figure 1) was interpreted as mobilized sediments triggered by injection of gas, oil and formation water into shallow buried smectite-rich sediments (Figure 2)(Løseth et al., 2003). The aim of this paper is to improve the understanding of the mobilized sediments and their formation mechanism. This will be done through a more detailed well-calibration of the various seismic anomalies and by comparing the timing of mound formation with hydrocarbon generation and expulsion from basin modelling.
Within the chaotic reflection zones various types of anomalies are observed (V-brights, mounds, listric normal faults, undefined chaotic reflections)(Figure 1). Detailed 3D seismic interpretation combined with good well-calibration have improved our ability to discriminate between various seismic anomalies below the mounds. This paper will present ongoing work on identification of these anomalies.
The northern North Sea Basin is a prolific hydrocarbon province and the main source rock is the upper Jurassic Draupne Formation. During the lower and mid Tertiary time large amounts of interbedded sands and muds were deposited and basin modelling demonstrates how the subsidence led to a thermal pulse and generation of large quantities of hydrocarbons (Johannessen et al., 2002). Mounded surfaces in the Hordaland Group were most likely formed at a free surface and can therefore time the sediment mobilization which indicates when the active fluid system leaked to the surface.
References:
Johannesen, J., Hay, S.J., Milne, J.K., Jebsen, C., Gunnesdal, S.C., and Vayssaire, A. 2002. 3D oil migration modelling of the Jurassic petroleum system of the Statfjord area, Norwegian North Sea. Petroleum Geoscience, 8, 37-50.
Løseth, H., Wensaas, L., Arntsen, B., and Hovland, M., 2003. Gas and Fluid Injection Triggering Shallow Mud Mobilization in the Hordaland Group, North Sea. In Van Rensbergen, P., Hillis, R., Maltman, A., & Morley, C.K., (eds) Subsurface sediment mobilization. Geological Society, London, Special Publication 216, 139-157.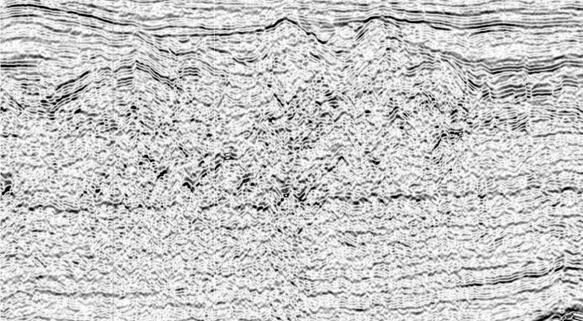 Figure 1. Typical seismic expression of the chaotic reflections, V-brights and mounds from the northern part of the Norwegian Block 30/9. Note the non-mobilized but polygonal faulted succession on the right part of the figure. (Modified from Løseth et al., 2003)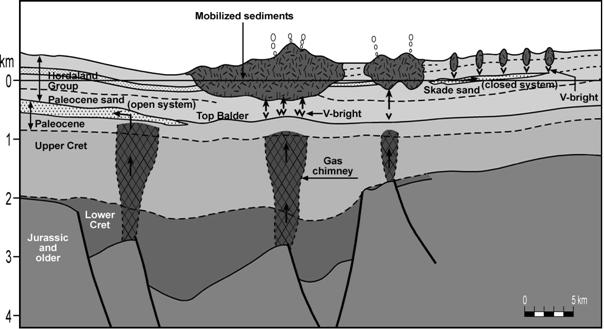 Figure 2. Schematic interpretation that indicate how the mobilized sediments reflect parts of the basin "plumbing" system. Hydrocarbons were generated in the Viking Graben and migrated vertical trough gas chimneys and sand injections and triggered the mobilization of the sediments in the Hordaland Group. The mobilization reflects two fluid systems, one sourced from Jurassic structures in the Viking Graben and a smaller eastern system sourced through intra Hordaland Group sands. (Modified from Løseth et al., 2003)
AAPG Search and Discovery Article #90057©2006 AAPG/GSTT Hedberg Conference, Port of Spain, Trinidad & Tobago