AAPG HEDBERG CONFERENCE
"Mobile Shale Basins - Genesis, Evolution and Hydrocarbon Systems"
June 5-7, 2006

-- Port-of-Spain, Trinidad and Tobago
Onshore Venezuelan shale mobilization associated to the south
Caribbean Plate boundary
Leonardo Duerto1, Alejandro Escalona2, Miguel Nuñez3, Aisha Perez3, Amram Benguigui3
1 PDVSA Exploración Oriente
2 Institute of Geophysics, University of Texas
3 PDVSA Exploracion Occidente
Shale diapirism has been interpreted along the northern margin of South America in the Caribbean margin of Colombia, Southern Serrania del Interior and offshore Trinidad to the Barbados accretionary prism (Humphrey, 1963; Brown and Westbrook, 1987; Briceño and Vernette, 1992; Aslan et al., 2001; Duerto and McClay, 2002; Sullivan, 2005). In northern Venezuela, shale diapirs and interpreted subsurface shale–related folds form an elongated belt of more than 10000 km2 along the southern foothills of the mountain fronts of the Cordillera de La Costa and Serrania del Interior. Extensive shale outcrops in the foothills from the Guarumen area till the Urica fault zone, overturned strata, well data and areas of poor 2D seismic image surrounded by folded seismic reflections, suggest shale mobilization that can be interpreted as Oligocene-Miocene shale diapirs or shale-related folds eroded from Middle Miocene times. Shale structures identified in outcrops in the area includes shale-core anticlines and mud walls.
Interpreted shale tectonic activity is diachronous. In the northeastern Maracaibo Basin is dated as late Paleogene with reactivation during Neogene (Escalona, 2003; Nuñez et al., 2004), in the sub-Guarico basin is Oligocene with reactivation during the Miocene, and in the Maturin sub-basin shale diapirs are Miocene and were reactivated during the Plio-Pleistocene. Shale tectonism shows similar tectonic features in the entire area, and main observations are: regional listric normal faults, counter-regional listric faults, shale cored anticlines or shale diapirs; low angle thrust faults and high angle normal and reversed faults (Fig. 2).
The Venezuelan shale deformation belt is aligned to the east with the shale diapirism reported in Trinidad (Deville et al., 2004, Brown and Westbrook, 1998) and northwestward with the shale diapirism reported north of the Santa Marta Massif (Briceño and Vernette, 1992).
Shale deformation in northern Venezuela seems to be associated mainly to the Caribbean-South America plate oblique collisional boundary (Fig.1). Extensive seismic studies in western Venezuela have revealed that there is no seismic or surface evidence of shale deformation neither in the Merida Andes or in the Sierra de Perija mountain systems. Because shale deformation is older to the west and younger to the east along the northern margin of Venezuela and Trinidad, we propose that shale diapirism evolution is produced by diachronous oblique convergence of the Caribbean plate against northern South American plates. Rapid sedimentation and tectonic loading, caused by southeast-directed thrusting, over the 1000Km diachronous deep marine northern South America foreland basins, produced overpressure in the basinal shale, which is responsible for the formation of shale diapirism and shale mobilization.
The existence of these shale diapirs and shale-related folds are important for hydrocarbon exploration because: 1) Shale diapirs act as conduits for hydrocarbon migration from the source rock to the reservoirs; and 2) Shale diapirs preserve excellent traps along their flanks, similar to those found in the Gulf of Mexico caused by salt tectonics. Zones of proved oil entrapment related to shale diapirism are located in Pedernales field at the Orinoco delta, Quiamare and Tonoro field at the Urica area in the Eastern Venezuela basin, and in the Mene Grande area in the Maracaibo Basin (Fig.1).
References:
Aslan, A., A. Warne, W. White, E. Guevara, R. Smyth, J. Raney and J. Gibeaut, 2001, Mud volcanoes of the Orinoco delta, eastern Venezuela: Geomorphology, v. 41, p. 323-336.
Briceño,L. and Vernette, G. (1992) Manifestaciones del diapirismo arcilloso en el margen colombiano del Caribe. Geofisica Colombiana, 1: 21-30.
Brown, K. and G. Westbrook, 1987, The tectonic fabric of the Barbados Ridge accretionary complex: Marine and Petroleum Geology, v. 4, p. 71-81
Chatellier, J-Y, M. Mendez, P. Hague and A. Navarro, 1998, Shale mobility in western Venezuela, implications for maturity studies and prospectivity (abs.): AAPG Annual Convention, Salt Lake City, CD-ROM.
Deville, E.; Battani, A.; Griboulard, R.; Guerlais, S.; Lallemant, S.; Mascle, A.; Prinzhofer, A. and Schmitz, J (2004) Processes of Shale Diapirism and Mud Volcanism in the Barbados-Trinidad Compressional System: Integrated Therman and Geochemical Approach. GCSSEPM conference.
Duerto, L. and K. McClay, 2002, 3D geometry and evolution of shale diapirs in the Eastern Venezuelan basin (abs.): AAPG annual convention, Houston, CD-ROM.
Escalona, A., 2003, Regional tectonics, sequence stratigraphy and reservoir properties of Eocene clastic sedimentation, Maracaibo Basin, Venezuela, Ph.D. dissertation, The University of Texas at Austin, Austin, Texas, 222 p.
Heppard, O. H. Cander and E. Eggertson, 1998, Abnormal pressure and the occurrence of hydrocarbons in offshore eastern Trinidad, West Indies, in Law, B., G. Ulmishek and V. Slavin, eds., Abnormal pressures in hydrocarbon environments: AAPG Memoir 70, p. 215-246.
Humphrey, W., 1963, Sedimentary volcanism in eastern Mexico and northern Colombia: Geological Society of America, Bulletin, V. 74, p.125-128.
Nuñez, M., Benguigui, A., Paez, A., Moreno, E., Gonzalez, J. And Acosta, J. (2005) Deformation due to Shale Tectonics in Northwestern Venezuela (abs.): AAPG International Conference and Exhibition, Paris, France, CD-ROM.
Sullivan, S., 2005, Geochemistry, sedimentology, and morphology of mud volcanoes, eastern offshore Trinidad, M.Sc. thesis, The University of Texas at Austin, Austin, 93 p.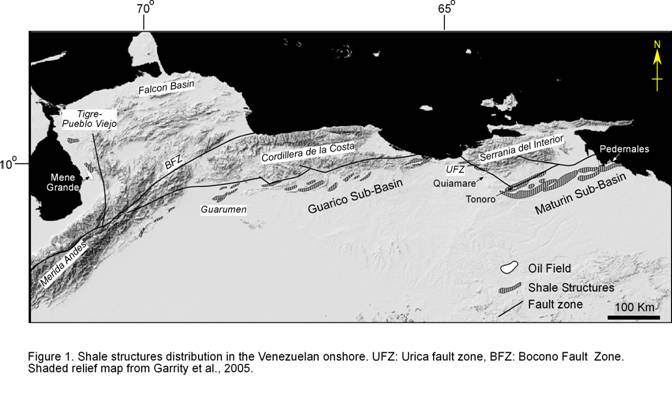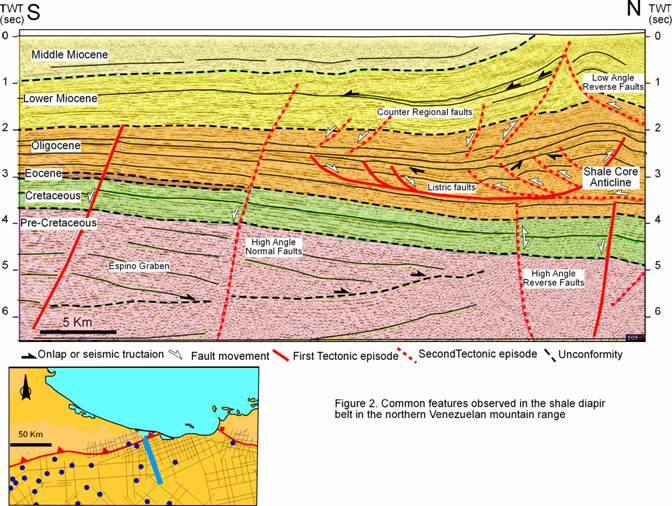 AAPG Search and Discovery Article #90057©2006 AAPG/GSTT Hedberg Conference, Port of Spain, Trinidad & Tobago