AAPG/GSTT HEDBERG CONFERENCE
"Mobile Shale Basins – Genesis, Evolution and Hydrocarbon Systems"
June 4-7, 2006 – Port of Spain, Trinidad & Tobago
The Style & Timing of Mud Volcanism in the Offshore Nile Delta, Egypt
Peter A. Bentham, Mark Pasley & Christopher Birt
BP Egypt Exploration, 14 Road 252, Digla, Maadi, Cairo 11431. Egypt.
Mud volcanoes have long been recognized but not systematically studied within the offshore Nile Delta of northern Egypt. They are considered to be important and deserving of study as many of the producing gas fields, recent gas discoveries, and future prospects have significant mud volcanoes developed above them. The distribution of the mud volcanoes discussed in this paper is shown in Figure 1. The impact of mud volcanism, in terms of timing relative to structural evolution and the effect on seal integrity and pore-pressure evolution are currently under study and preliminary results will be presented. The primary phase of activity for mud volcano development within the offshore Nile Delta is during the Early-Middle Pliocene. Based on observations from high-quality 2D and 3D seismic data, this growth appears be related to withdrawal and mobilization of overpressured shales of Tortonian age that lie immediately beneath an important regional unconformity at the base of Messinian evaporites, but above many of the prospective reservoir targets.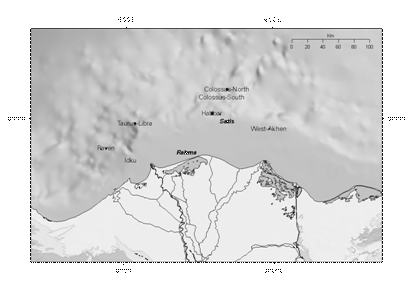 Figure 1: The distribution and activity of mud-volcanoes within the central & western Nile Delta, northern Egypt

 

There is a consistent correspondence between the location of the mud volcanoes and the presence of underlying Pre-Messinian structures that form many of the recent discoveries and future drilling portfolio. These deep structures were most actively growing during Middle Miocene time (Serravallian-Tortonian). It is important to note, therefore, that while there is a clear spatial association between the two, the growth of the deep structures, and the subsequent activity of the mud volcanoes during the Pliocene-Recent does not overlap in time. Furthermore, while the majority of the mud volcanoes have expression at the present-day sea bottom, two important features (the Rahma and Satis mud volcanoes) became inactive during Late Pliocene times, during the rapid seaward progradation of the central Delta. Two styles of mud evacuation & collapse can be observed, and the nature of these differences will be discussed in the poster.
AAPG Search and Discovery Article #90057©2006 AAPG/GSTT Hedberg Conference, Port of Spain, Trinidad & Tobago